paulk : April 1, 2012 2:24 pm :
General Info
,
Interviews
Every now and then we plan on posting interviews of notable locals. People who you may or may not know. Or, perhaps you've seen their names on email lists and wondered who they are. We, at Kingsury's Cyclery, feel these people are are making a positive impact on the local cycling scene and should be recognized for their efforts.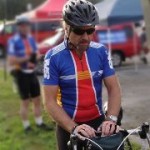 First up is Harold Brill, a determined recruiter of cyclists, novice or experienced, for his team at Tour de Cure and all around interesting guy
Harold, where did you growing up?
I did growing up ?? in Caroline…a little one-corner 'burg east of Ithaca on Rt. 79. I'm a product of tiny-town and the IthacaSchool District.

Current Hometown
 Spencer and assorted railroad hotels.
Your Family ?
 Wife of 25 years Chris and two boys…Connor – soon to be 16 and a sophomore in HS and Seneca – 19 and in college at Cayuga Comm. College in Auburn.  Chris and Connor ride too…Seneca is a work in progress.

Pets ?
 2 foolish and untrainable mutt dogs, 1 foundling stray cat and 1 other cat that thinks he owns the joint.

What type of jobs have you had ?
 You name it.  From a 15 mile paper route that I rode when I was 12, I went on to a dairy farm while I was in high school, worked in a roller skating rink or three, worked for Ithaca DPW on streets, paving and a mason crew, worked in a technical glass factory, did maintenance work on the Ithaca Commons (for which I have never forgiven myself), ran a mobile DJ service for a decade, worked in construction/renovation for a couple of municipalities, taught motorcycle rider-ed classes in Dryden and Ithaca, worked in Buildings and Grounds and maintained all the athletic fields and pool for Dryden Schools, finally went to work for the railroad under Conrail and eventually became a locomotive engineer for Norfolk Southern…that's where I hang out now…and hopefully will retire from.

What's your current job ?
 I'm still an engineer and run trains on a regular route between Binghamton and Saratoga Springs or Mechanicville NY.  The route may change sometimes but the gig remains the same…lug big loads of stuff from A to B and back.

What's the best thing about being an engineer ?
 Pays well.  Get to play with big, zillion dollar toys and work pretty much on my own most of the time.  A window with a view of a lot of countryside.  And the challenge of getting it right.
What's the worst thing about being an engineer ?
 Without a doubt…Too much time away from home and family.  I've missed more than I care to think about with my wife and kids. It's tough on a family working  on-call with unpredictable hours and days off and not enough of either one.

What's the longest train you've driven ?
 Longest was 14,000 ft. train full of brand-new automobiles and SUVs.   Heaviest was 20,000 tons of coal.

What should people know about trains ?
 Always expect a train at a crossing and never trespass on tracks or trains. 
DO NOT try to beat the train at a crossing or even remotely think that a train can stop quickly.  EVER. I never want to hit another car.

Whats your favorite movie ?
 Tough call but if I had to pick just one or two…Kubrick's 2001 or maybe the old Blade Runner.  Ask me later…I might not have seen my favorite yet.

Whats your favorite types of music ?
 Depends on when you ask me.  Today it's kind of a metal slant but there's days when Ga Ga or Jimmy Cliff doesn't scare me much either.  Eclectic…yeah, that's the word.  I keep my iPod on shuffle.

Your favorite bands or artists ?
 All time?  Blue Oyster Cult…possibly with a little Korn or U2 for seasoning.  You just never know…

Whats your favorite train song ?
 'Train of Consequences' Megadeth  
http://www.youtube.com/watch?v=-G38VlmOib8

Why do u ride ?
 Hmmm…How to narrow it down?  I love seeing the world going by a little slower mostly.  I've seen more cool things since I took up riding again than in all my years of driving by the same places.  I love being out on the road or in the woods just chewing up miles and seeing what there is to see.  Oh yeah…it keeps me passing my company physicals too and as a bonus, I don't look like the Michelin Man anymore. I lost about 60 pounds when I got back on a bike and feel great.   Rule #5.  And then there's the fun of beating the hills at their own game.  Bring it.
Whats your earliest cycling memory ?
 Lots of good ones later on but the very first is getting my foot wedged in between the spokes and chainstay on my sister's blue Schwinn when we tried to ride to a friend's house with her pedaling and me on the back fender.  I might have been 6 or 7.  I can still hear the spokes pinging off my left sneaker…right up until the moment when the wheel grabbed my foot and jammed it into the frame hard enough to peel a swath off my ankle like a banana peel.  The scar is still there.
Another real early one was that incredible feeling of flying down a big hill on an old Spyder bike with a bent front wheel. It seemed like 100 miles an hour.   No shirt, no helmet, no fear…right up until the tee in the road where I went down on my chest and scrubbed off  most of  the hide  from navel to collar bones.  My Mom spent the afternoon picking gravel out of the abrasions and patching the skin-leaks.  Now you know why I'm still a little paranoid about twitchy forks.

Describe your dream ride
 Locally… I've always wanted to ride the Erie Canal from end to end or likewise the Pennsylvania Grand Canyon but never seem to have the time. 
Long distance…From my driveway to my original riding partner Doc Annabel's house in Virginia by way of Skyline Drive without any involvement from ambulances, EMTs or a hearse.  Failing that…almost anything of 1000+ miles in one outing would do. Where isn't so important…just the chance to get there would be fine.
Why tour d cure ?

Mostly by accident.  It started as a fun ride with Doc to try to make our first real Century.  Neither of us had ever ridden in an organized event before so I figured…why not?  But then I found out my employer had a corporate Tour de Cure team that I could run a local branch of and one thing led to another.  I started finding out more about diabetes along the way and realized how many people around us have it or are affected by it and now it's become a major project.  Funny how stuff like that happens.

Tell us about Team PowerTrain 2011
 We started in 2010 on the first Finger Lakes Tour de Cure as Team NS Thoroughbreds with I think 10 or 12 on the roster.  We had no idea what we were doing or what we were in for.  By sheer dumb luck, the ride went great and everyone had a ball so we figured we'd have another go at it.  In 2011 we kept the name but grew to 36 riders and raised over $14,000 for the American Diabetes Association. Our team was dedicated to Leanne Cardone who passed away from complications of diabetes in 2011.  Her father Donnie is a retired railroad conductor and one of my all-time heroes so it really meant a lot to do something like this for her and her family.   We had people from New York, Pennsylvania, Oklahoma, Virginia and Florida all come to town to ride with us.  It was an incredible event.
 Now we have our new name and 31 people signed up already for 2012 so again, it's looking like another great Tour in August.
What are your goals for Team PowerTrain 2012 ?
 We're shooting for 50 riders on the team and a fundraising total of at least $25,000.  We have an amazing bunch of people doing all kinds of events all summer leading up to the Tour on August 18th.  There's stuff from a scrapbooking Scrap-a-thon to barbeques, motorcycle rides, team bike rides, bike raffles, coupons…you name it, and we're doing it.  We're working at being the top fundraiser in our Tour again so the bar is pretty high.
We'll dedicate this year's Tour to Alton White, the husband of one of our team who has fought diabetes for many years but still comes out to support Angie when she rides.  Our main goal is to have a blast and raise a ton of money for ADA while we're at it.
How can people get involved?
 Anyone can join Team NS just by going to our Tour de Cure page and signing up.  A quick search finds us pretty quickly.  Even though we're a railroad-related team, most of our riders aren't even connected to the railroad in any way but by the jersey.  We're open to anyone who wants to ride with us regardless of ability or fitness level.  You can also ride solo in the Tour de Cure or form your own team…whatever suits your fancy.  The ADA webpage (http://tour.diabetes.org) has a ton of information about the ride but I'll talk to anyone who's interested too. The best way to catch me is by email  at rule281@htva.net or message me on Facebook.
And by the way…

There's this bike shop we found that supports us a lot too.  When I was shopping for my first 'real' bike, these guys were about the only ones that never missed a beat when a scruffy old fat guy came in on a sadly dilapidated Trek, with limited capitol and knowing pretty much nothing.  I'd had plenty of 'bike snob' attitudes already so I was a little discouraged about the whole idea and was about to start hitting yard sales for a bike.  I'd made the rounds of other places where you need a platinum card just to park out front and you don't get the time of day unless you speak Campy fluently and know who won every stage of the '47 Giro d'Italia.   No other new-bike shop in my travels made me feel like I was worthy of the sport at my age and BMI but PK and Co. took up the challenge and got me going.  The rest is history.
 In addition, this was the only shop that was willing to offer a break of any kind to my newly formed team of rank amateurs other than putting our poster in the window.  Now, they keep a good share of the NS pack rolling even though some of us don't know a derailleur from a downtube and would probably hurt ourselves on a daily basis without proper care and feeding.  Paul and Sloan and crew…thanks guys!
Thank YOU,  Harold !